wedding confetti photos
Let me guess, you're here to find out what confetti looks best in photos and where to buy it? Well heres the thing…I LOVE confetti! Hands down it's one of my favourite parts of the wedding day to photograph. Not only is it a fun thing for your guests – I mean when else do they get permission to throw stuff at your face?! – but it's also a way of getting some epic, joy filled photos, no matter how camera shy you are.
I'm going to give you all the info you need for guaranteed confetti success including how much you need, where to buy it, how much it costs as well as as some eco-friendly alternatives to traditional dried petals. Also, if you're thinking about using confetti cannons, I've got all that info too, as well as the best ones to buy!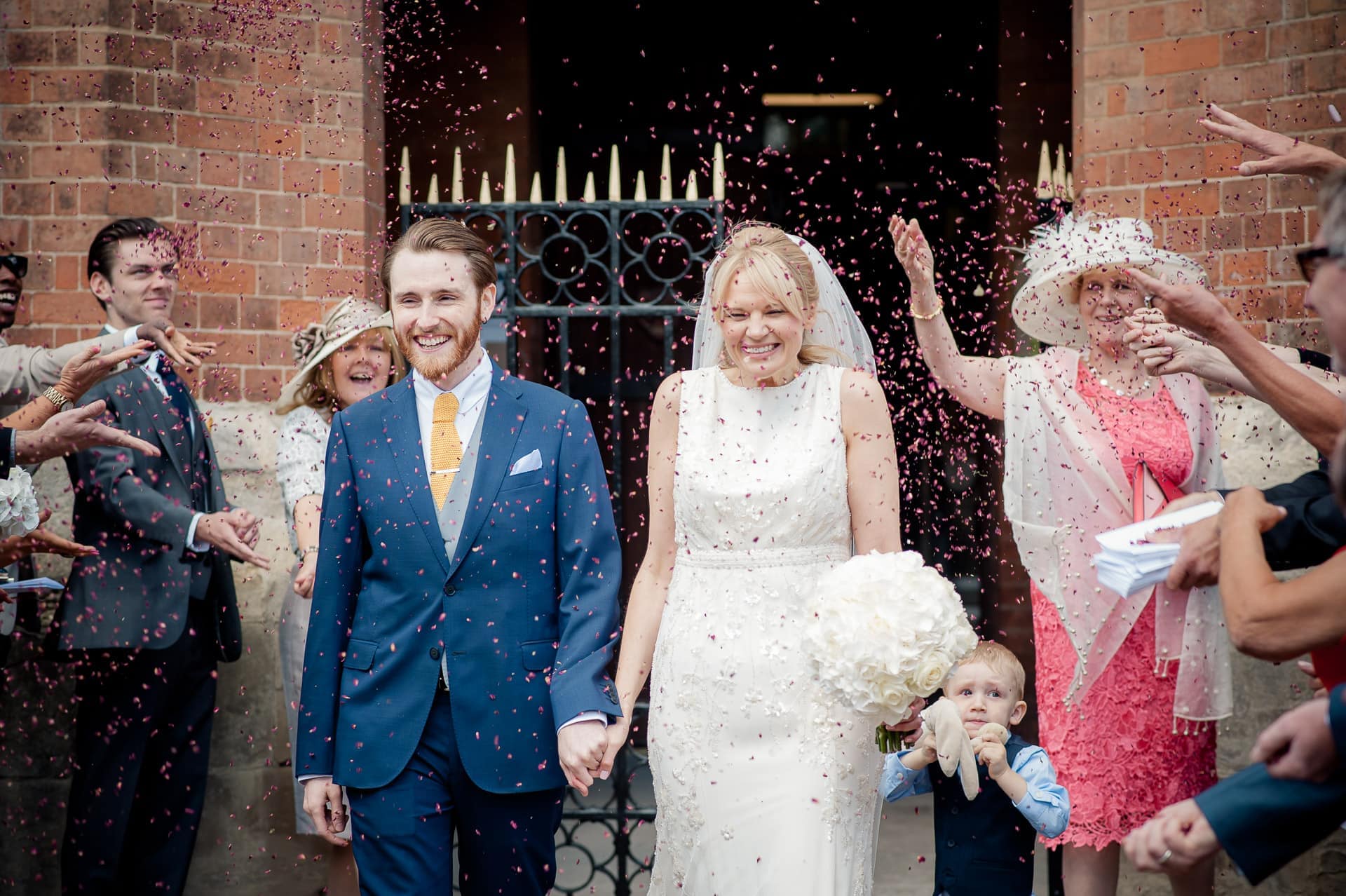 Get Permission
Before you rush out and buy gallons of the stuff, check with your wedding venue and ask if they have a preference about the type of confetti they like to be thrown. They'll usually have restrictions about where to throw it as well and it's normal for churches to not allow confetti in the grounds. Most venues will insist on only using biodegradable confetti (and rightly so)
2. Supply It Yourselves
These days, guests are pretty rubbish at remembering to bring along their own confetti so if you're keen on confetti bombardment it's best to supply your own. There's lots of ways you can give out confetti but it's usually best to designate your bridal party to help with getting guests in the right place and making sure everyone has got a handful or two
3. How much confetti do I need?
In a nutshell – you can never have too much! Get absolutely loads of the stuff! If I don't find confetti in my hair or my camera bag when I get home, then there most definitely wasn't enough!
Get double what you think and you're on the right track. At least two big handfuls per guest (especially if you want one of those epic, can't-see-where-I'm-going confetti photos!) There's nothing worse than preparing to take the confetti shot and seeing guests holding just a few petals each
Where can I buy confetti?Most places will estimate 1 handful per guest which is approx 1 litre for 10 guests but seriously, two handfuls per guest is best! If you're buying dried petals, I'd suggest 1-2 litres per 10 guests
4. Where can I buy confetti?
When it comes to dried petal confetti there's some great companies who will do the hard work for you. I recommend Shropshire Petals or the Real Flower Petal Confetti Co – you can even visit the latter's confetti fields in the summer (just a short drive from Warwickshire in Pershore)
A litre of dried flower petals will set you back about £10-13.
5. What confetti looks best in photos?
The larger and more colourful the better! Large dried petals are popular for this reason but big circles of punched out tissue paper also look amazing!
The smaller the confetti, the less it will show up in photos. It also has a tendency to fall faster whereas big petals will flutter and float for longer.
6. Consider the Impact
Think about the environment where you will be throwing the confetti and the mess it will make. Biodegradable is best for outdoors as who knows where it will end up once it's been thrown. As well as the popular dried petals option, you can find lots of environmentally friendly confetti options on Etsy.
7. Enjoy the moment!
This tip pops up a lot throughout my wedding planning advice but I can't stress it enough here! Sure, it's not every day you get pelted in the face with god knows what and your gut instinct will be to turn your face away but try to embrace the sheer chaos as it will be over so quick! Try not to fixate on the camera, take it slowly and if you happen to swallow some, go with it! Smile at your guests, punch the air with your bouquet…even stop halfway for a kiss if you fancy!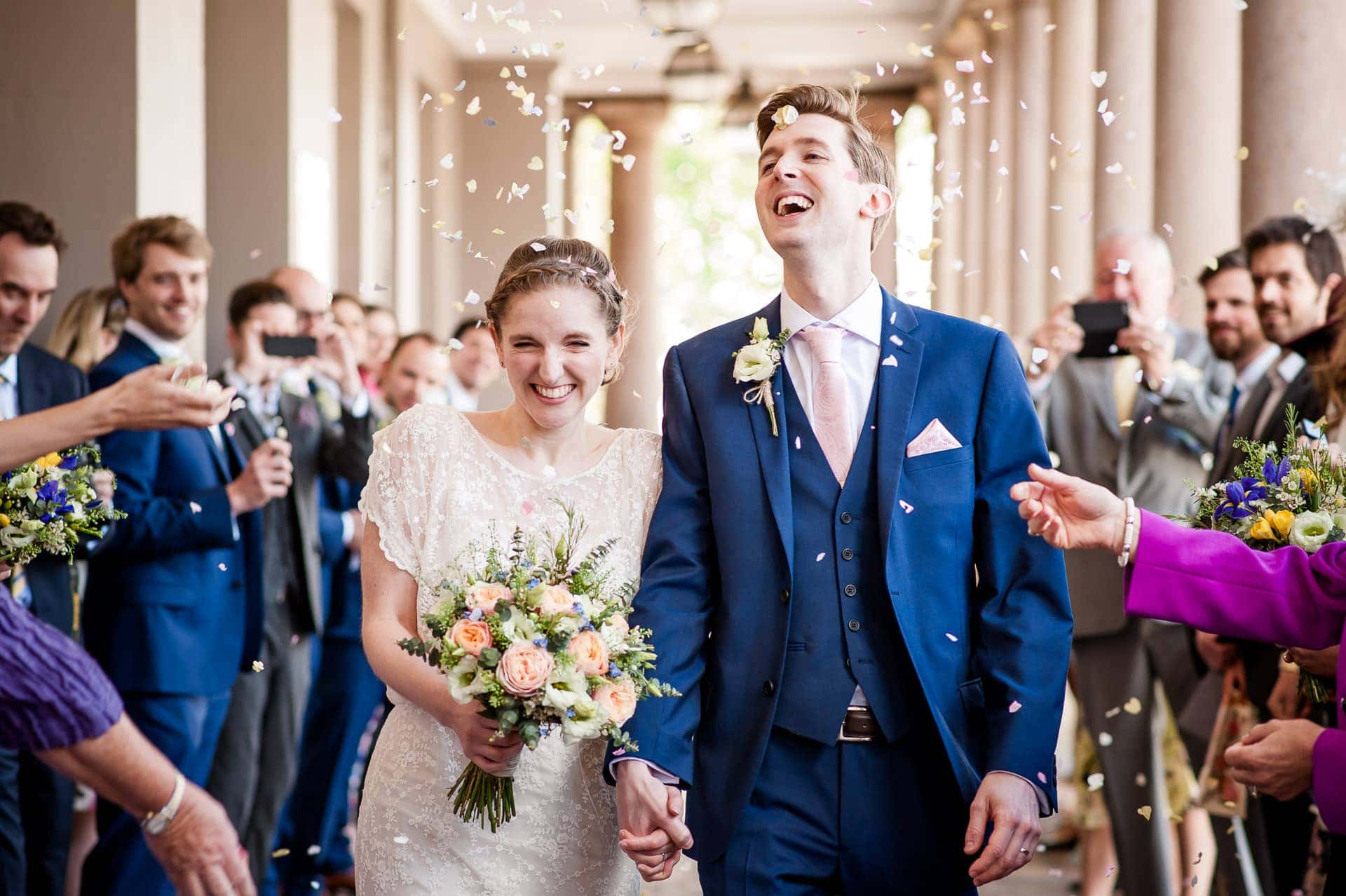 8. Group Shot Or Tunnel?
There's no right or wrong here – it just comes down to personal preference as well as the available space. A group confetti shot is ideal if you plan on asking your photographer to do a group photo of all your guests. Once the formal one is done, you can go straight into something more lighthearted!
A tunnel works well straight after the ceremony and it also means you can nab five minutes alone time whilst your photographer organises your guests.
9. Use a confetti cannon
These are a game changer! Obviously it would work out pricey to give each of your guests one but dot a few of these bad boys throughout your confetti line-up and you will you have a confetti throw of epic proportions!
10. Bear in mind…
Some colourful tissue and petals aren't colourfast when wet, so there's a risk of staining your dress. Avoid confetti throwing in the rain or anywhere where there is a chance of the confetti getting wet
It goes without saying that cannons should be fired upwards and not into faces. If you have young children attending you should ensure these are only used by adults
FIRST DANCE
How much do you love confetti? Then how about round two of the stuff later in the day during your first dance?!
The first dance usually signifies the start of the evening party and what better way to get the party started than filling the air with a big confetti bomb?! Add some wow to this tradition with the addition of some confetti cannons.
Are confetti cannons biodegradable? Although a lot of confetti cannons are filled with metallic confetti there are also biodegradable options – Ginger Ray do a fab selection (I've included them in my recommended list below)
Confetti cannons are best fired in pairs where their paths cross. Get 2 or 4 of your bridal party members poised at opposite corners of the dance floor and have them wait until the chorus to set them off one after the other (leaving a second or two in between). Make sure they know how to use them to avoid a big anti-climax!
What size should you get? Well you should know by now what I'm going to say…the more the merrier! Go for one larger cannon or several smaller ones to fill the room. Again, check with your venue as some won't allow it.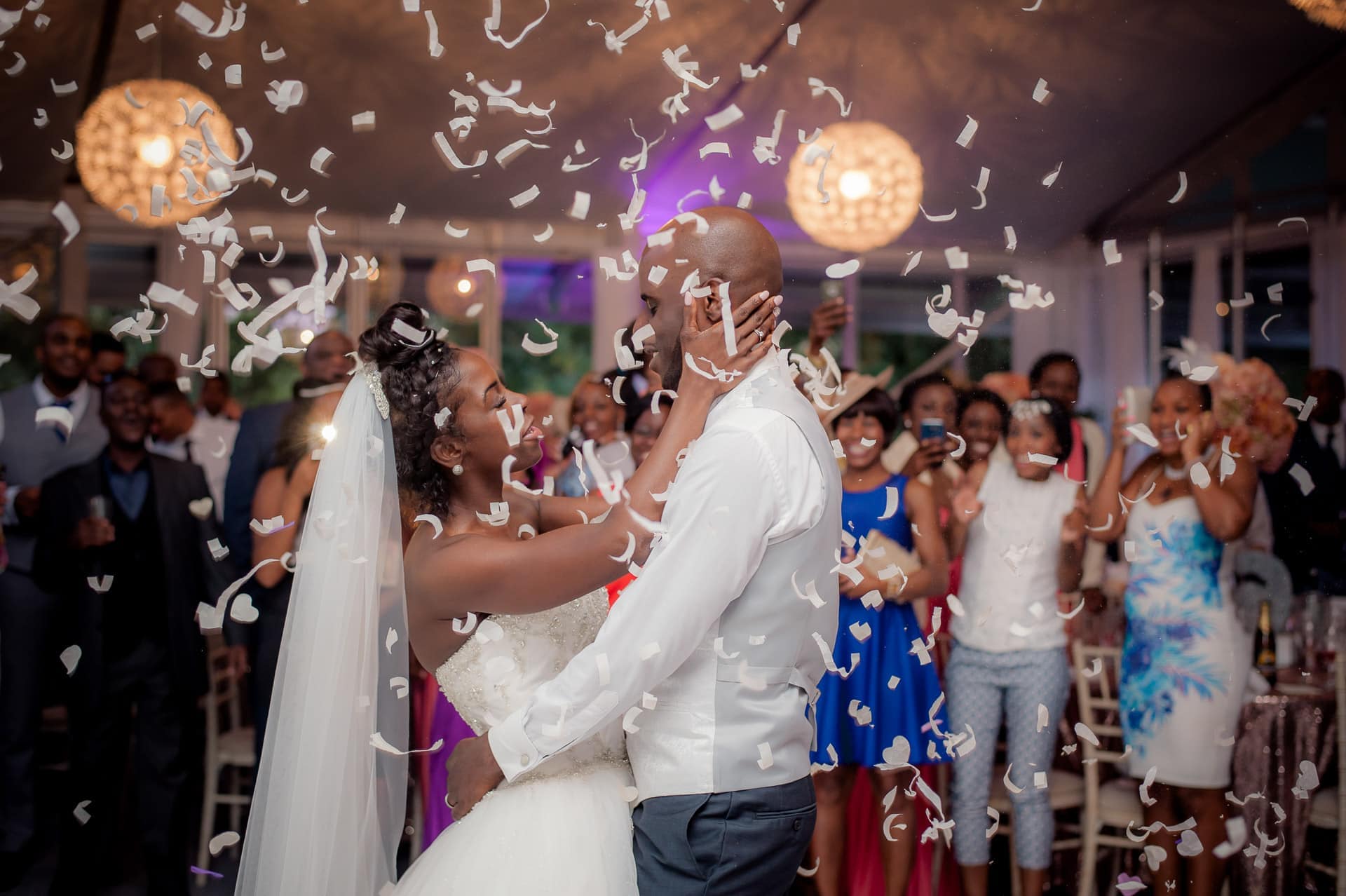 Eco-Friendly alternatives to dried petals
If your venue doesn't allow traditional confetti or you're just keen to go off-piste with something a little more unusual, here's ten alternatives that will not only look great in your photos but are also kind to the planet. I'd love to see more of these this year!
Dried Lavender
Colourful flags
Paper Aeroplanes
Fresh Leaves
Bubbles
Ribbon Wands
Paper ribbons
Rice
Bird Seed
Pinched paper shapes
---
FIND OUT MORE
My brochure contains all the info about my wedding photography and you can get it instantly using the button below
---