At the start of your engagement you could be forgiven for thinking that this wedding planning lark would be all about twirling in wedding dresses, filling your boots at food tastings and swooning over Pinterest worthy details.
There's no reason why it can't be all of those things but it's also likely to be the biggest, most complicated party you'll ever organise. There's the obvious things such as booking a venue, choosing a dress and making a guest list but what about all the other little things such as finding inspiration, designing invites or setting up a honeymoon fund?
Whether you're just engaged or knee deep in wedmin, here are my favourite digital tools to help you out
Best for Inspiration: Instagram
It's not just for checking out your friend's cat or your colleagues lunch, instagram is great for inspiration too! Not only can you follow your favourite wedding suppliers but you can also follow hashtags.
Unsure what hashtags you should follow? Think about the style of wedding you're planning or the type of venue you've booked and follow hashtags such as #industrialwedding or #tipiwedding. Following a local wedding hashtag such as #warwickshirewedding could introduce you to local suppliers whose work you love.
The possibilities are endless and following a few different hashtags will ensure a fresh dose of wedding inspiration in your feed every day that is relevant to the style of wedding you're planning.
Best for creating mood boards: Pinterest
Is it even possible to plan a wedding without Pinterest in 2020? I freaking love it and use it obsessively to pin all aspects of my life from planning trips away, finding inspiration for our next house renovation as well as searching for toddler friendly recipes. You can find inspiration for all things wedding and save them on your very own digital moodboards.
Best for making lists: Trello
For those that love a to-do list more than life itself. Forget the notebook and use a virtual pinboard which will sync across your devices. I'm the kind of person who writes to-do lists and immediately adds things I've already done just so I can cross them off so I love a good list making app.
Create different boards for the months ahead of the wedding to allow you to focus only on the tasks that matter at any given time. This will not only prevent wedding overwhelm but ensure you won't forget anything.
You can get as vague or as detailed as you like – whatever works best to keep you on track. Trello wrote an article on how to use the app for wedding planning and even made their own boards which you can copy as templates, make changes to suit your day and then start using straight away. You can find the article here
Other apps worth a mention: Wunderlist, Evernote, Todoist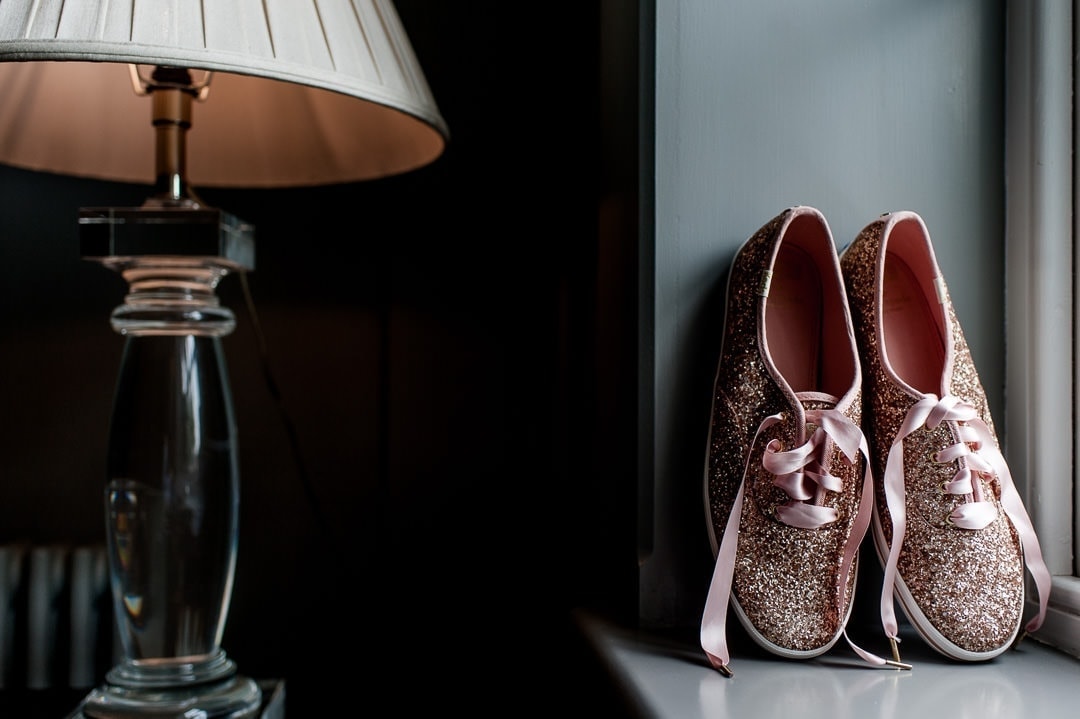 Best honeymoon fund: Patchwork
When I married my now husband we had both separately owned a house for years and really didn't need any more smoothie makers or wine glasses so we opted to ask for contributions to our honeymoon. I loved using Patchwork as it was a much nicer way of asking for money
I meticulously planned our honeymoon to Cuba and guests paid for activities such as horse riding through the tobacco valleys, a tour of Havana in a pink cadillac and cocktails at a jazz club.
In reality, you just end up with a stack of cash but I think there's something really nice about your guests seeing what you have planned rather than just chucking a few notes in a wedding card and not knowing how you've spent it. I will mention that Patchwork isn't free but I think it is well worth it for the beautiful way in which it is presented to your guests (screenshot below of our honeymoon Patchwork)
If you'd rather have traditional gift list then you might want to consider John Lewis purely so you can swan around the store zapping swanky gin goblets and trendy cushions to add to your gift list.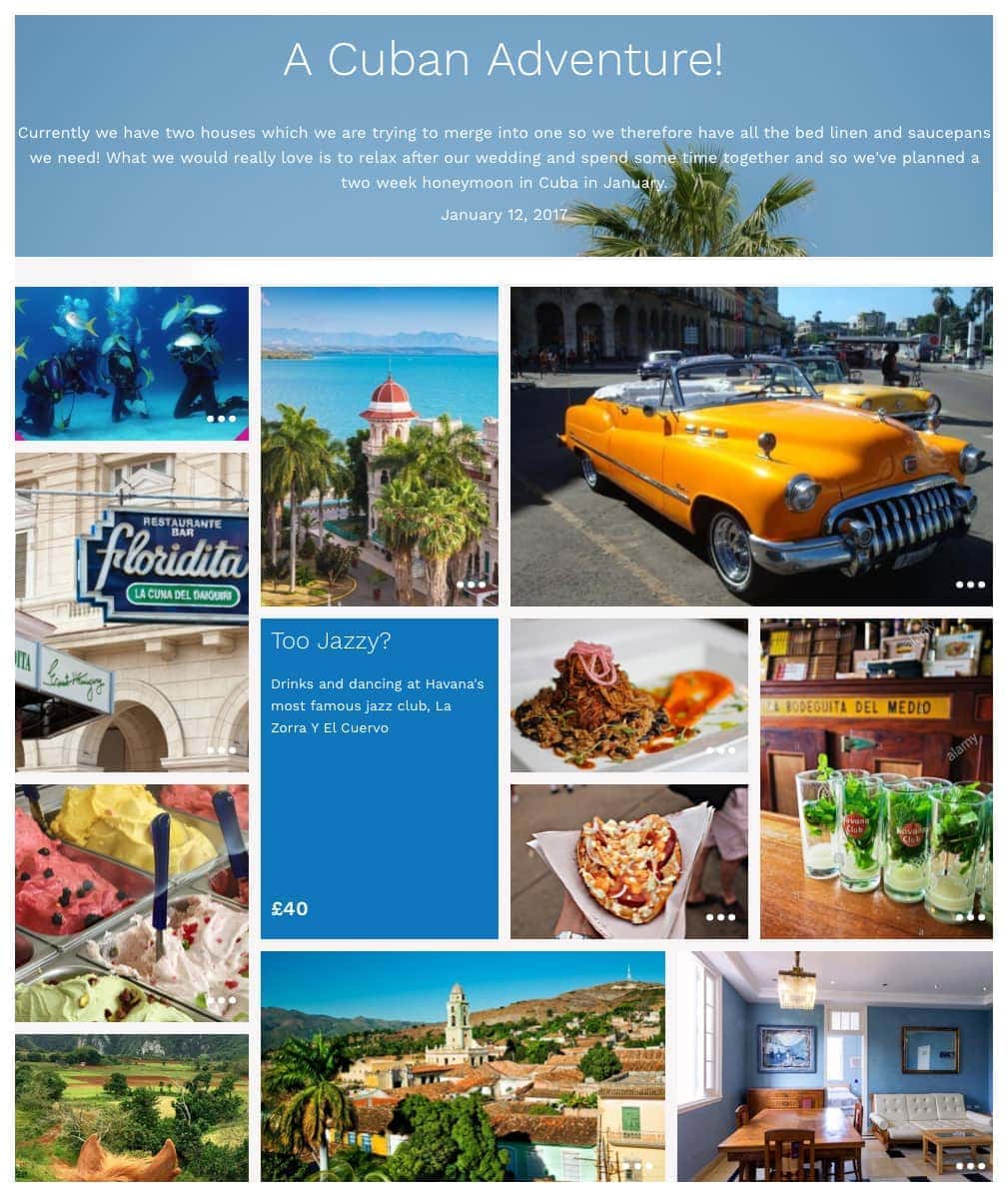 Best for designing invites: Canva
I'm massively into Canva right now. For those that haven't heard of it, it's an online design tool for non-designers that is stupidly easy to use, absolutely free and comes with a huge selection of templates from professional designers. Just drag and drop licence-free images and graphics into pre-made designs, change the colour and text to suit your style and within minutes you could have a high-res professional looking invite for just the cost of getting it printed. Job's a good 'un if you ask me!
Best for all the little details: Etsy
If you like to shop small, handmade, local and independent then no doubt you have already heard about Etsy. It's an online marketplace where small businesses thrive and individuals can purchase awesome items that you just won't find on the high street or anywhere else. It's full of unique, one-of-a-kind items from independent sellers that are handcrafted rather than factory made. From invites to outfits, décor to accessories, Etsy literally has it all.
What I love most about shopping on here is knowing that somewhere, an actual real person does a little happy dance (in the same way I do when someone chooses me as their photographer!)